Name: Dracel Regis Notris
Images :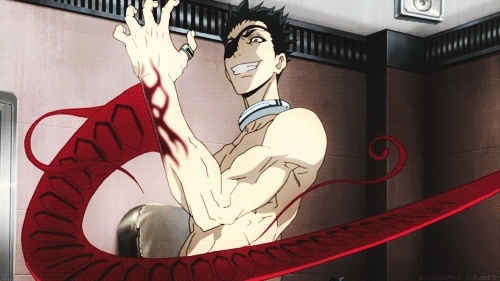 Class: Alpha.
Race: Caesium
Age: After reaching his mid twenties, he stopped aging. His real age is unknown but he is known to be incredibly ancient.
Sexual Orientation: Straight.
History: Dracel is the first Caesium. His father was once the god of war, but after raping a virgen, he was forced to give up his divinity. The virgen became pregnant and the resulting child was Dracel. Since his father was once a god of combat, he excelled in all forms of weaponry and battle. After his twenty-third birthday he stopped aging and became immune to sickness and gained immortality. At first he saw this as a curse since all his loved ones died due to natural causes, however, as time passed, he accepted his immortality and used it to impregnate enough women to raise an entire race. He named then the Masters and he led them in a world wide conquest that nearly enslaved the entire world under his domain. Yet, he made one crucial mistake and enslaved the other races so he could use them to built his grand cities and palaces. The other races rebelled against the Masters and the resulted war would forever change the face of the world. The Masters were robbed of their powers and reduced to mere shadows of their former selves. In a last-ditch effort to save his children, Dracel fled to the Undercity where he remained hidden for more than 1000 years. As time passed he became a myth that would later be discarded as fiction. Still, while they no longer call themselves Masters, but Caesiums, they continue to exist.
Personality: Ruthless, short-tempered and loud. Dracel is extremely passionate and is prone to making decisions based on his temper. He is however a shrewd leader without a rival and can make strong willed individuals follow his orders without lifting a finger. He enjoys showcasing his great wealth, but is one of the most sympathetic beings. He has a deep rooted hatred for the other races since they were the cause of his fall from grace. He can however put his hatred aside and can have a peaceful chat with them. He enjoys drinking, sex and above all his people and children. Hi reputation for being a sadist precedes him. His most famous trait, outside of his magical might, is his legendary physical strength, speed and endurance, a result of years of training and millenniums of battles and wars.
Family: He is called the Progenitor due to fathering the first wave of Caesiums. For this reason, all Caesiums look at him as a god-like figure and a father due to his parental and caring form. Once had a wife but died during the War.
Boyfriend/girlfriend/spouse/mate: Currently none.